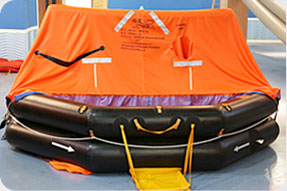 Approval Standard
1. Regulation 4,13,21,26,31 and 34, Chapter Ⅲ of International Convention for the Safety of Life at Sea, 1974, as Amended.
2. Chapter I and Ⅳ of MSC.48(66)International Life-saving Appliance Code,as Amended by MSC.218(82) and MSC.293(87).
3. Section 5, Part 1 and Section 5, Part 2 of MSC.81(70) Revised Recommendation on Testing of Life-saving Appliance,as Amended by MSC.226(82), MSC295(87) and MSC.323(89).
It can be used in the ships engaged on international voyages.
TYPE EXAMINATON CERTIFICATES
| | | | | | | |
| --- | --- | --- | --- | --- | --- | --- |
| Type | CCS | ZY | EC/DNV | RS | NK | KR |
| KHA-6 | Y | Y | Y | Y | Y | Y |
| KHA-8 | Y | N | Y | N | N | N |
| KHA-10 | Y | Y | Y | Y | Y | Y |
| KHA-12 | Y | N | Y | N | Y | N |
| KHA-15 | Y | Y | Y | Y | Y | N |
| KHA-16 | Y | N | Y | Y | Y | Y |
| KHA-20 | Y | Y | Y | Y | Y | Y |
| KHA-25 | Y | Y | Y | Y | Y | Y |
| KHA-30 | Y | N | Y | N | N | N |
| KHA-35 | Y | N | Y | N | N | N |
Remark: Y------YES, N------NO
Type

KHA-6

KHA-8

KHA-10

KHA-12

KHA-15

KHA-16

KHA-20

KHA-25

KHA-30

KHA-35

Physical form

regular octagon

rectangular octagon

Capacity

6

8

10

12

15

16

20

25

30

35

Length ,mm, ±1000

2170

2460

2730

2990

3300

3350

4390

4770

5576

6070

Width, mm, ±1000

2170

2460

2730

2990

3300

3350

3040

3370

3275

3540

Height , mm, ±50

1250

1300

1400

1400

1500

1500

1500

1500

1600

1700

WP pressure,kPa

13.3

Specification of cylinder

4×1

5×1

6×1

7.5×1

9×1

9×1

6×2

7×2

9×2

12.5×1
10×1

Gas volume, g

CO2, ±050

2400

3000

3600

4400

5400

5600

3500

4200

5600

8000/6200

N2, ±020

200

250

250

300

370

400

240

280

400

600/400

Container

Dia. (mm)

545

615

675

700

730

745

Length(mm)

1045

1090

1135

1285

1440

1485

Total weight, kg ≤

78

90

107

122

137

142

155

175

198

220
Leave Messages
Please feel free to give your inquiry in the form below.We will reply you within 24 hours